One of my personal life-mantras is, You can make excuses or you can make it happen, and lately, with this blog, I am NOT making it happen. I'm not making excuses, just admitting it's not the priority I wish it could be. Thankfully, the things keeping me away from blogging more are weekend wedding trips away, and house-guests, house-guests and more house-guests. I've also taken a little more time to think about some elements that are the final pieces before I reveal some rooms. So, please know my head constantly spins with post ideas and if I didn't have to sleep, or eat, or care for my family, my home would be a dazzling display of domestic creativity and I'd be sharing every mouth-watering tidbit with all of you. The great news is I have projects in my head to last until eternity and beyond-boredom is impossible here!
Today, for a quick creative break, I decided to start looking at big boy bedding for my nearly two-and-a-half year old. Potty training is on tap for next month and the big boy bed transition will soon follow. I am hopeful that will also mean we can pair down his bedding to just a duvet or comforter and his one special blanket.
His room is one that just needs one final touch before the big reveal so you'll have to trust me that the colors for each of my choices would work. I may end up sewing something myself but these are a few I liked at quick glance around the interwebs. Please let me know your favorites!
Garnet Hill Skateboards percale sheeting-the concept is scary as B already loves skateboards but the colors are great. The wide green stripe would NOT work.
Galaxy Sheeting by Dwell Studio- I think this is too near the wall color but I love the subtlety.
Brody Sheeting by PB kids-perfect colors and I know B would love this!
Organic Star by PB Kids- I would have to make this one out of the white sheets with gray stars but I love it's simplicity and the ability to add other colors.
Junior Varsity by land of nod-I wouldn't do the quilt but B loves all things sports and these colors are perfect-maybe a little busy, but there are no other patterned fabrics in his room.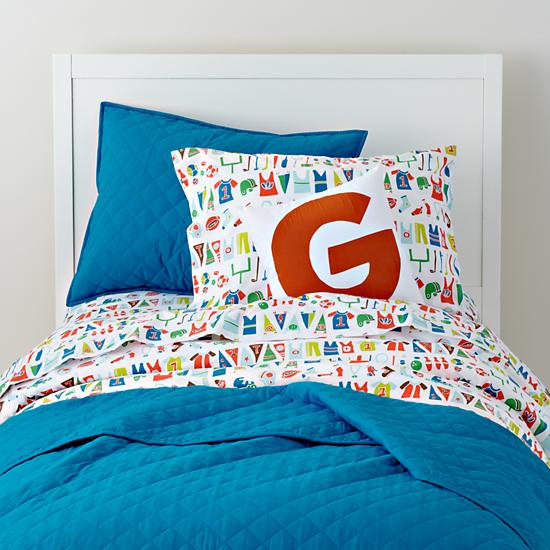 Parallel Bars Bedding by land of nod-I particularly like the sheets and the B was a wonderful coincidence. I would make the duvet from these sheets and maybe search for a red B :)